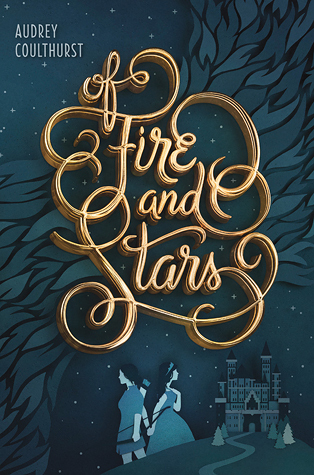 During my Spring Break Read-athon, I read Of Fire and Stars. I started it on March 5th and finished the book on the 6th.
Basic Review for Of Fire and Stars
For about 2/3 of the book, I was bored out of my mind. Then that last 1/3 captured me and sucked me in. Overall, I enjoyed the book but just wish it was paced differently.
Basic Info
(No Spoilers)
Author –  Audrey Coulthurst
Genre – YA fantasy
Age Range – Any YA reader could enjoy this.
Number of pages – 489 pages
My Goodreads stars – 3 out of 5 stars
My Review
(Minor Spoilers)
Synopsis from Goodreads – Betrothed since childhood to the prince of Mynaria, Princess Dennaleia has always known what her future holds. Her marriage will seal the alliance between Mynaria and her homeland, protecting her people from other hostile lands. But Denna has a secret. She possesses an Affinity for fire—a dangerous gift for the future queen of a kingdom where magic is forbidden.
Now, Denna must learn the ways of her new home while trying to hide her growing magic. To make matters worse, she must learn to ride Mynaria's formidable warhorses—and her teacher is the person who intimidates her most, the prickly and unconventional Princess Amaranthine—called Mare—the sister of her betrothed.
When a shocking assassination leaves the kingdom reeling, Mare and Denna reluctantly join forces to search for the culprit. As the two become closer, Mare is surprised by Denna's intelligence and bravery, while Denna is drawn to Mare's independent streak. And soon their friendship is threatening to blossom into something more.
But with dangerous conflict brewing that makes the alliance more important than ever, acting on their feelings could be deadly. Forced to choose between their duty and their hearts, Mare and Denna must find a way to save their kingdoms—and each other.
Writing – The writing is simple. It made it easy to read – but not as easy to enjoy. There was nothing spectacular about the writing, which disappointed me because I've heard amazing things about this book.
Characters – I loved the two main characters, Denna and Mare. They were both strong female protagonists and enjoyable to read. Also, their chemistry was AMAZING. They were freaking soulmates and I loved whenever they were together. I also loved Nils. He was such an awesome side character and best friend!
Plot – The plot DRAGGED. For about 250 pages, I was so freaking bored. No one was figuring anything out about the murder, Mare and Denna were still not sure about their feelings, and everyone was pretty much doing nothing. But then, 250 pages in – the plot started to come around and I really enjoyed it. I think the book needed a much faster pace.
Ending – The girls got together! There are truly not enough lesbian romances in YA and of the ones that exist – far too many don't end happily. It was so refreshing to read one where the girls end up together with a future ahead of them. Speaking of a future ahead of them, I'm pretty excited for when the sequel comes out.
Enjoyability/Would I Recommend – This book is enjoyable if you're patient. I would recommend this book to anyone who doesn't mind waiting a few hundred pages for the plot to pick up. It was fairly easy to read, so I think about anyone who reads YA could enjoy this book. Overall, if you enjoy romances set in royal settings, you'll probably enjoy Of Fire and Stars.
My Favorite Quotes
"But some things are stronger than years of lessons.
The draw of fire.
A longing for freedom.
Or a girl on a red horse."
"With that knowledge came the realization that I was absolutely, without any shred of doubt, profoundly in love with her.
If only I had been anyone else in the world, maybe I could have told her. But my future was set in stone."
"An Affinity, much like a heart, cannot be changed."
---
Thanks for reading! ❤